·
Junior threadjacker ag. J
Hi guys and gals,
I wanted to show off my brothers or our family cat. She is 4 years old and has birthday on my moms birthday (my mom gets fish and she gets jog hurt actually other way around
) feel free to post your own pics of dogs, cats, ferrets, birds, hamsters, mice, bunnies, crocodiles, slingsh... Oh wait that's not a pet
. Will , (sigh) you may also show your fish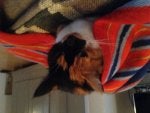 She is a very small and still playful cat(she picks a lot of fights but goes to a offensive retreat or what's known as run away as fast as you can
)!! Can't wait to see your pets and their awesome names.
How could I forget her name we thought it was a boy so we called her fritzi but she's a girl but we still call her fritzi
J