Discussion Starter
·
#21
·
I hope you we're using something to absorb some of the kinetic energy of the skittle.
Haha. I was trying foods to shoot in the livingroom, i missed and hit the closetdoor. Too bad i washed the wall. These small cookie types made awesome splashes.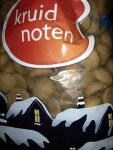 liquorice, winegums and dried fruit didn't splash/smudge, but i can't find half if them. Luckily my son is an effective human vaccuumcleaner for candy.
Then i also tried peppermints, coughing candy, bonbons, hard marshmallow and olives.
I'm trying to lose weight and this seemed like an effective use of foods i shouldn't have