some data of my actual "device" -> Let me show you its features ! ;-)
rubber powered (10 parallel theraband silver on each side)
transmission ratio to bow string 1/4
push & pull energy storage
frame material : Aluminium
size: 80cm*20cm*20cm
stroke length 55cm (pusch&pull)
bolts: DIY 27.5g 10mm quadratic aluminium + steeltip
magazine (up to 10bolts , so far only used 5 DIY)
bolt velocity 70m/s
bolt energy 70J
efficieny about 50% (depending on temperature,...)
overall weight 2,8Kg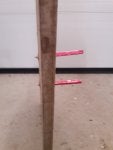 Backdraws of design (to be improved in next step):
rubber tubes have bad efficiency at cold temperatures
heavy rollers -> bad efficiency
magazine not exchangeable
trigger (aluminium) wears after several shots
bolt holder broke at dry fire
too much power -> how the hell do i get the bolts out of the 27mm doka plate ??
Questions:
Did I post this in the correct category or would be "Slingshot Crossbow" the better channel ?
Anybody working on similar targets ?